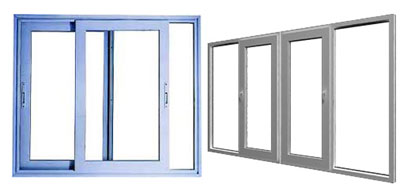 We are one of the leading fabricators& suppliers of "Glass & Aluminum sections" to various industries in Gujarat. We are based in Ahmadabad, Gujarat and have been into this business for more than 35 years. We are one of the market leaders in Gujarat, setting the benchmark in product quality and variety, price, and customer service and finally the customer satisfaction.
Our product variety has expanded to provide customers with an even wider choice of quality products for:-
Residential
Architectural
Automotive
Interior & decorative
Specialty
Artistic uses.
Wide assortment of colors and customization options make it even easier to make all your glass purchasing decisions from one supplier.
Committed to working hard. This begins with our estimating team offering competitive pricing by the project due date and our project managers working to meet ever increasing project schedules and deadlines. We believe in doing it right the first time, we give each customer personalized, professional, and dedicated service with one set of goal in mind;
"To achieve long-term stable business relationships built on trust and reliability"
Our focus is on communication. Every job, large or small, has a specific team of people assigned to manage the project from the initial call to the final moment of completion. We feel that this is the level of dedication our clients should expect when doing business with Novelty, where we strive to provide nothing less than excellence.
Weensures that you will receive the exact high quality glass you want at the most competitive prices.
We offer 2 Types of products:-
1) Products of Glass:-
All types of glass & Mirror
Designing in all  types of glass
Fusion glass
Glass Canopy
Glass Toughen
Frameless Doors & Partition
Shower Cubical
Frameless sliding doors
Frameless sensor doors
2) Products Of Aluminum:-
Aluminium Sliding Windows
Aluminium Sliding doors
Curtain Walls
Structural Glazing
Frameless Glazing(spider &Patch Fitting)
Canopies
Skylights
Aluminium sensor door
Flush Doors
Following are our value added customers:-
Anil Starch Ltd.
Anil Products
Ascent Knowledge Systems ltd.
HEC Infra Projects Pvt. Ltd.
Highvolt Power& control System Pvt. Ltd.
Swati Switchgear Pvt. Ltd.
Aroma Realties Pvt. Ltd.
Mangalam Infracom Pvt. Ltd.
Jay Chemical Industries
Flowchem Industries (Santej)
Flowchem House
Haryana Sheet Glass Works Ltd
Bharat Glass Tube Ltd
Interspace Design Pvt. Ltd
Vertex Interiors Pvt.Ltd
Shriji Developers
Pradeep Overseas Ltd
United Construction
Vishwas Construction
Ozone India Ltd.
Pacifica Developers' Pvt. Ltd.
Sthapatya Engineers
Welfound Association
Rajratna fastners Pvt.ltd
Durolam Ltd
We would also like you to know that we are C&F Agent for 4 states in South of sheet glass for Bharat Glass Tube Ltd only a leading manufacturer of sheet glass.